Atrex Inventory Control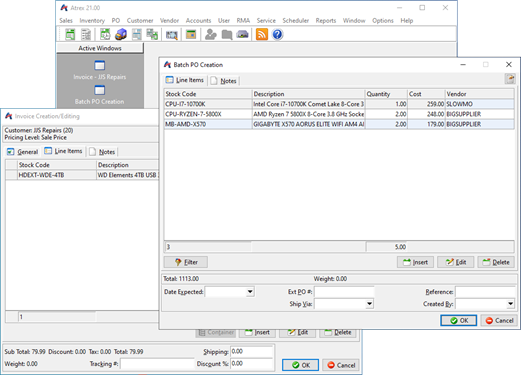 Atrex is an inventory control/point-of-sale (POS) package for the business that desires complete control over stock levels and inventory tracking. Designed for the Microsoft Windows environment, Atrex is comprehensive, intuitive, and easy to use.

Rather than being designed for any one specific industry, Atrex is designed to be usable by most retail or wholesale operations. Current Atrex installations include computer retailers, pet stores, crafters, motorcycle dealers, automotive repair shops, locksmiths, and government agencies.

If you're tired of running your business by hand, computerization is one of the quickest and most efficient ways to increase the profits of your business. Computerization allows you to quickly determine how much stock you have on hand, see when you are running low on certain items without having to do a physical inventory, create and generate a mailing list of customers to promote repeat business, and keep a history of your sales. Simply put, we are in the business of making your business run smoother.

If your business is already computerized and you're looking for a new inventory/point-of-sale control program, Atrex has import capabilities for customers, stock codes and vendors.
Atrex Features

 Point-of-sale invoicing, order entry, and quotations 


 Recurring invoicing 


 Purchase orders 


 Vendor and Customer RMAs


 Multi-job service orders and service quotes 


 Available Add-On for importing and exporting to the Zen Cart or WooCommerce shopping cart


 Support for temporary "Show" locations 


 Simple receivables, payables, and bank account tracking 


 20 character alphanumeric stock codes, with user ability to increase the length. 


 Handles serialized, non-serialized, container (kits), and assembly items 


 Add customers, vendors, and stock codes during a transaction 


 Multiple pricing levels (5), unlimited pricing categories, and automatic price adjustments 


 90+ standard reports


 Built in report designer for report customization or creation of new reports


 Uses a high speed embedded database engine with Client/Server capabilities*


 Available ODBC driver allows for external reporting 


 Import capabilities for stock codes, customers, and vendors 


 Store notes on individual customers, stock codes, or transactions 


 Bad check/debt indicators 


 Barcode reader support 


 Prints stock code labels with bar codes 


 Menu level security 


 Cash drawer support 


 Built in database backup capabilities 


 All transactions are real time to allow up-to-the minute reporting 


 Support for multiple date formats, open phone number fields, and alphanumeric postal codes 


 Network and multi-user ready


 Supports add on tax rates 


 Data is stored locally on your network.


 Secure EMV credit and debit card processing available through Worldpay Payment Systems.
*Please note that Client/Server capabilities are available only for multi-user licenses.
Atrex Pricing
Atrex is available as a Software PLUS subscription with the price varying based upon the license quantity and the length of the subscription term:
| | |
| --- | --- |
| Licenses | Monthly Per License Price |
| 1 | $30.00 |
| 2 - 4 | $27.50 |
| 5 - 7 | $25.00 |
| 8 - 10 | $22.50 |
| 11+ | $20.00 |
Click Here to calculate your Atrex subscription.
Prices listed are the monthly per license price (in USD) for a Quarterly subscription. A 10% discount is given for Semi-Annual subscriptions, and a 15% discount is given for Annual subscriptions. Quantity discounts are based upon the ending licensed quantity at the time of the current order. If you have a 4 user license and add an additional license, the additional license will be priced at the 5 - 7 price level.
Licenses expire at the end of the subscription term unless renewed. Data entered is still accessible after expiration, but the program will not allow new data to be created.
Includes ALL updates or upgrades released while your subscription is current.
Standard support* is included for the duration of your subscription.
The above prices are for electronic delivery of the product, registration key, and electronic documentation.
* While we don't have a hard fixed amount of support included, we provide what we call a "reasonable" level of standard support for general assistance with the product.
We do realize there are situations that require more support than others, such as when upgrading or moving computers, and take this into consideration. In the rare instance where someone requires an excessive level of support beyond what is reasonable, we will charge for the excessive support as appropriate. As always, standard support does not include training (we have self-help tools for that), AR/AP/Banking account reconciliation, customization, hardware or network setup, and data repair.

System Requirements:
64bit Windows 10, 11, 2012, or Newer
100 Meg hard drive space
500MB Free RAM after loading OS
Mid Range (or better) Dual Core CPU is recommended
Inkjet or Laserjet Printer Recommended
Screen resolution of 1024x768 or higher.