WooCommerce Import/Export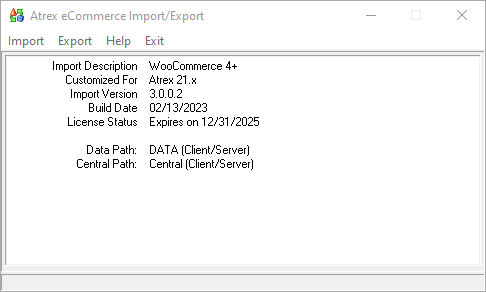 You have your store, you have your web site, and you have WooCommerce up and running. Now comes the time consuming process of entering all of your products, and then keeping it updated.
But it doesn't have to such a repetitive chore... The Atrex WooCommerce Import/Export utility is an easy to use interface between your Atrex database and your WooCommerce shopping cart. This utility allows you to automatically push current inventory information stored in your Atrex database and pull orders from your web site and import them directly into Atrex for processing.
Why WooCommerce? Simply put, WooCommerce is one of the most widely used shopping carts period. It's supported by a large number of hosting sites, and it allows you to easily create a clean simple online shopping experience for your customer, and now you can publish your Atrex inventory just as easily as you published your web site.
Utility Features

 Supports WooCommerce 4+.


Quick and easy installation. Most new installations can be up and running with WooCommerce in less than an hour.


 Inventory updates and order retrieval can be performed manually or automatically.


 Updates and order retrieval can be as often as every 5 to 6 minutes or as infrequent as once a day.


 Populates your shopping cart with products only with the items that you specify.


 Product information includes description, available quantities, category, manufacturer, and tag values.


 Atrex related codes can be displayed as Up-Sell or Cross-Sell items.


 Intelligent inventory image updates reduce bandwidth usage.


 Images can be resized and / or watermarked as they are uploaded.


 Automatically removes replaced images in the WordPress media library to prevent runaway usage of drive space.


 Works with both in-house and hosted WooCommerce installations.


 Matches existing customers by email address to reduce duplicate customers.


All data exchange is performed via secure connection using the WooCommerce API.


A Worldpay credit card plug-in is available for secure card entry and offline processing at time of shipping.

Try the Atrex WooCommerce Import/Export utility today. A fully functional copy of this program is available from our downloads page.
Pricing
The WooCommerce utility is licensed per company location on a quarterly, semi-annual, or annual subscription basis.
The subscription license duration and prices available are:


 Quarterly Subscription: $90.00 ( $30/month )


 Semi-Annual Subscription: $150.00 ( $25/month )


 Annual Subscription: $240.00 ( $20/month )
Your subscriptions includes unlimited use of the utility within one company location as defined by a unique Atrex serial number, all updates released within your subscription period, and support via email or community forum for the components supplied by Millennium Software, Inc. The subscription does NOT include support for the installation, maintenance, or modification of WordPress, WooCommerce, or your web site.
**Prices listed are in US Dollars.